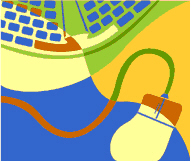 Many say or assume that leadership does not change in the digital age. The scant attention paid to technology in the leadership literature is a testimony to that. But, isn't it hard to expect that with so much of our interactions and work occurring via technology, leadership would remain unchanged?
Technology is changing the fundamental human processes that underlie leadership. When we use technology, the mental processes that are triggered change due to the absence of nonverbal cues and lack of social presence. We bring different information and emotions to bear on a situation. For instance, email has been shown to trigger egocentrism. Receivers may also perceive messages to be more negative than they actually are. Attraction between individuals is also altered by electronic communication. While attraction generally decreases, it can also increase in certain conditions; we are all aware of someone who has fallen in love online.
In the digital age, with workers spread all over the globe, a leader cannot hope to supervise and manage like before. With delayed information from remote followers, direct supervision and management is not possible. Proper and more elaborate structures have to be established beforehand. For situations where prior structures are not sufficient, the intent or purpose behind follower's work have to be clarified and followers have to be trained and empowered to deal with unexpected situations themselves. With technology-mediated work increasing unabated, there is greater need and expectation for leaders to provide an inspiring purpose and structure that would hold the followers together and propel them forward despite the numerous challenges of working virtually.
Expectations about leadership are also changing due to the workforce seeing an increasing number of workers who have grown up with technology around them. Our younger generation, which is growing up in an open, tell-all culture, is likely to seek similar information-sharing qualities in its leaders.
The digital age offers greater opportunities to take advantage of the innovation and leadership capabilities of an organization's workers and external stakeholders. Research suggests that organizations seeking to benefit from IT investments that enable grassroots participation, leaders would need to delegate more and they would need to focus more on team building and goal alignment (e.g., through inspirational leadership).
In sum, leaders need to be cognizant of how technology can change their mental processes and behaviors and adjust themselves appropriately. They also need to be aware of how the relevance and requirement of certain behaviors and tactics changes with technology so that they can change their behaviors accordingly. With so many things changing for a leader in the digital age, leadership cannot remain the same. Can it?