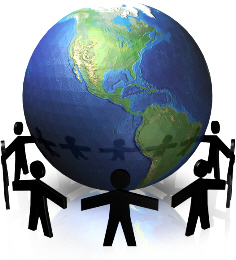 Every once in a while, you come across something that defies the conventional wisdom that you need face-to-face contact to build strong social relationships (see a recent article that relies on this wisdom). A New York Times article "After Blogger's Plane Crash, Virtual Becomes Personal" that was published on September 6, 2008 is one such item.
In this post, I discuss the following:
Building social relationships via electronic communication,
Relevance of social relationships to leading virtually,
Creating a shared identity to build relationships, and
Setting a positive tone to build social relationships.
Bulding social relationships via electronic communication
The author, Alex Williams, describes what happened after Stephanie Nielson, a young mother who blogged frequently about her home life, suffered severe burn injuries from the crash of a small private plane she was traveling in. Some readers of Ms. Nielson's blog felt as if there had been a tragedy in their own family. Many readers who had their own blogs joined with Ms. Nielson's siblings to raise funds by organizing more than 350 online auctions on their sites; the fund-raising is expected to surpass $100,000. Readers from as far away as Australia and Guam joined in to release helium balloons carrying get-well messages when one of Ms. Nielson's sisters called for this inspirational gesture.
It is interesting to note that even though the readers of Ms. Nielson's blog did not have face-to-face contact with Ms. Nielson, they developed a strong bond with her. I believe this happened because Ms. Nielson shared her life experiences in a positive way. Ms. Nielson blogged about things that are not out of the ordinary for many women — marriage, home decor, entertaining, and raising small children. By sharing her life experiences, Ms. Nielson conveyed to her readers that she faces the same issues that they face and is human like them. This sense of a shared identity is critical to promoting strong relationships.
The other thing that promoted readers' bonds with Ms. Nielson was her positive tone on her blog. Despite having days when she was frustrated, Ms. Nielson conveyed an upbeat tone in her blog. According to her readers, Ms. Nielson portrayed motherhood as a celebration and a higher calling rather than as a grind.  "Her relationship with her husband wasn't perfect. But she chose to focus on the beauty," according to Courtney Kendrick, one of Ms. Nielson's sisters. By sharing her experiences in a positive way, Ms. Nielson helped create a character in the minds of others that they idealized and tried to emulate. In fact, the absence of face-to-face contact may have made the creation of such a character easier by enabling Ms. Nielson to present only 'selected' experiences and emotions.
Relevance of social relationships to leading virtually
What is the relevance of this for leading virtual teams? First of all, the example of Ms. Nielson's blog and the reaction of readers to her accident suggests that is is possible to build strong relationships via electronic media, without face-to-face contact (this suggestion is well supported by research findings). Relationships are critical for virtual team functioning because they foster mutual support and cohesion within a team, both of which are essential for teamwork (see Betsy's post on the meaning of teamwork). Second, the example also provides us with conditions that can help create strong relationships in electronic communication. Essentially, the conditions are shared identity and positive, upbeat communication.
Creating a shared identity to build social relationships
How can the leader of a virtual team create a shared identity? I had provided some ideas for this in a past post. These ideas deal with making the team and its identity more salient to its members and indicating to them how they are an important part of the team and its identity. In brief, you could do the following:
Use collaboration technology that makes the group identity salient. Ideally, set up a collaboration workspace that would identify the team by its name and present the team's purpose, its members and their roles (see "Can Absence Make a Team Grow Stronger?").
During team member introductions and the creation of a team compact, focus attention on how the experiences, skills, and abilities of team members are related to the team project and team goals.
For teams that meet or work in a virtual world, it may also help to minimize the differences between avatars.
Share what is going on in your life in a positive way. Encourage your team members to do the same. For ideas on how to do this, see Betsy's post on creating ambient awareness.
By highlighting a "shared" identity, you will be helping team members identify with and relate to one another.
Setting a positive tone to build social relationships
According to an IBM report on leading innovation, setting a positive tone means providing encouragement and praise to team members. You, as a team leader, also need to manage conflict and protect the team from annoyances, complaints and attacks. Avoid showing your impatience or frustration with something. Set an example for others to follow. A positive climate within the team is a strong foundation for team members to identify with the team. It also prepares the team to feel efficacious and be more willing to take on new challenges.